Dr.A.M.Sameeullah is a recognized supervisor under Annamalai University.
Mr.P.Ashok is a reviewer in International Journal of Advance Technology and Engineering Research.
Ms.G.Vinithra is certified Oracle Trainer under Oracle Academy.
Mr.P.Rayavel & G.Ilamurugan are certified Microsoft Azure trainers provided by TCS.
Mr.T.Ragunthar attended internship training in L&T Infotech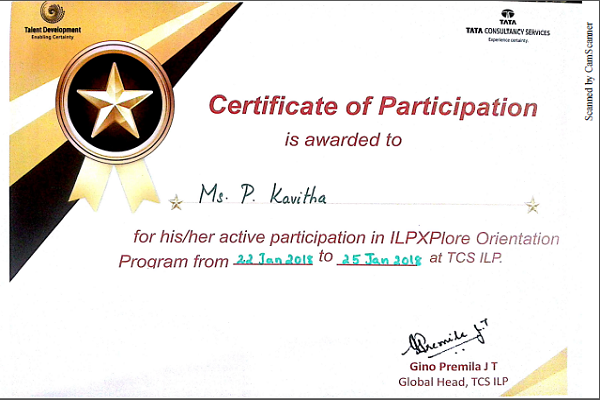 Ms.P.Kavitha  attended ILPxplore Orientation Program in TCS for Java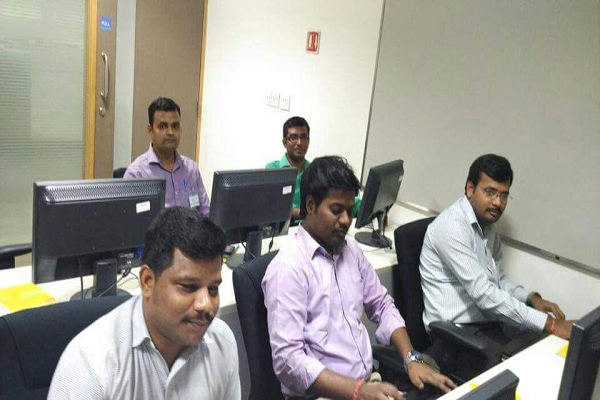 Internship training in TCS-Microsoft AZURE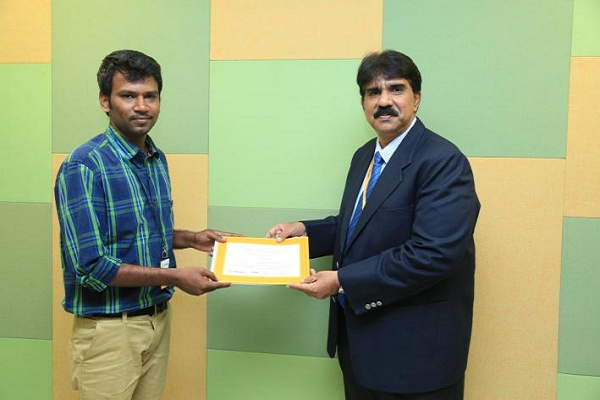 Dr.B.Sreedevi,Dr.K.C.Suresh & Ms.P.Kavitha are certified trainers for Data Science & Big Data Analytics.
Dr.B.Sreedevi was awarded Best Faculty Advisor Award from Institution Engineers India for the year 2019
Ms B.Sreedevi has Achieved Longest Continuous SBC Award from Computer Society of India.
The Institution of Engineers (India) has awarded "Best Division award-2018" to CSE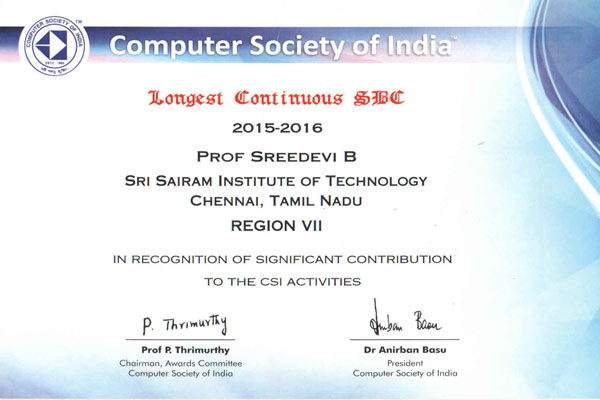 | SL.NO | NAME OF THE FACULTY | TITLE | JOURNAL NAME |
| --- | --- | --- | --- |
| 1 | ILAMURUGAN G | PREMATURE PREDICTION OF ALZHEIMERS DISEASE USING DECISION TREE CLASSIFIER | INTERNATIONAL JOURNAL OF PURE AND APPLIED MATHEMATICS |
| 2 | RAYAVEL P | AGRI- ADVISER | INTERNATIONAL JOURNAL OF PURE AND APPLIED MATHEMATICS |
| 3 | RAYAVEL P | A SURVEY FOR THYROID RETINOPATHY | INTERNATIONAL JOURNAL OF PURE AND APPLIED MATHEMATICS |
| 4 | RAJALAKSHMI D | AN EFFICIENT TECHNIQUE OF IDS FOR LARGE NUMBER OF MALICIOUS NODES IN MANET USING A TREE CLASSIFIER | IJSSST |
| 5 | DR.B.SREEDEVI | ANALYSIS OF PERFORMANCE METRICS WITH MESENCHYMAL STEM CELL CLASSIFICATION AND OPTIMIZATION ALGORITHMS | IEEE XPLORE |
| 6 | M.BHARATHI | DYNAMIC TRAFFIC CONTROL SYSTEM USING EDGE DETECTION ALGORITHM | IEEE XPLORE |
| 7 | P.RAYAVEL | A SURVEY FOR DIABETIC RETINOPATHY | IEEE XPLORE |
| 8 | D.RAJALAKSHMI | A NOVEL BASED FUZZY COGNITIVE MAPS PROTOCOL FOR INTRUSION DISCOVERY IN MANETS | INTERNATIONAL JOURNAL OF RECENT TECHNOLOGY AND ENGINEERING (IJRTE) |
| 9 | PACHHAIAMMAL@PRIYA M | PREDICTING THE CUSTOMER BEHAVIOR THROUGH WEB PAGE AND CONTENT MINING TECHNIQUES | IEEE XPLORE |
| 10 | P. KAVITHA | MAPPING ARTIFICIAL INTELLIGENCE AND EDUCATION. | IEEE XPLORE |
| Sno | Name of the author | Title of the paper | Name of the journal | Year |
| --- | --- | --- | --- | --- |
| 1 | Suresh K C | Cooperative Multipath admission Control Protocol A : Load Balanced Multipath Admission Policy | Research Journal of Bio Technology | 2017 |
| 2 | Suresh K C | A Machine learning Approach for providing location aware services in MANET | International Journal of Pure and Applied Mathematics | 2017 |
| 3 | Suresh K C | An efficient medical diagnosis system based on ANN to Minimize Misdiagnosis | International Journal of Pure and Applied Mathematics | 2017 |
| 4 | Suresh K C | Mobility prediction in MANET using eye of coverage approach | Cluster Computing | 2017 |
| 5 | Sreedevi.B | Analysis of performance metrics with mesenchymal stem cell classification and optimization algorithms | International journal of creative research Thoughts (IJCRT) | 2017 |
| 6 | Suresh K C | Energy based localization of IWSN in Bio Technology Industrial Application | Research Journal of Bio Technology | 2017 |
| 7 | Kavitha.P, Ashok.P | Credential based dynamic grouping in cloud computing | International journal of creative research Thoughts (IJCRT) | 2017 |
| 9 | Bharathi.M, Rayavel.P | Anonymous System Automatic Secret Attack in utility and detestability application | International Journal of Engineering Development and Research(IJEDR) | 2017 |
| 9 | T.Ragunthar | A Wraper based feature selection in bone marrow plasma cell gene expression data | Cluster Computing | 2017 |
| 10 | Kavitha.P, Madhupriya.S | Categorized emergency calling system using machine learning | International Journal of Pure and Applied Mathematics | 2017 |
| 11 | Rayavel.P | Simultaneous DC and Three phase output using hybrid converter | Journal of Physics | 2017 |
| 12 | Rayavel.P | Analysis of Extended Z source Inverter for Photovoltaic system | Journal of Physics | 2017 |
| 13 | Rayavel.P | Detection and classification of animals to alter vehicles on roads to avoid collision | International journal of creative research Thoughts (IJCRT) | 2017 |
| 14 | Vinithra.G | E-Payment for Toll-gate processing using QR Technology | International Journal of Pure and Applied Mathematics | 2017 |
| 15 | Priya.M | An Efficient FMRI Classification technique in cloud using multiple parallel feature selection algorithm | Cluster Computing | 2017 |
| 16 | Suganthi.P | Finger print authentication for internet banking along with online shopping | International Journal of Pure and Applied Mathematics | 2017 |
| 17 | Suganthi.P | Botnet and sybil attack detection and prevention in social media | International Journal of Science and Innovative engineering and Technology | 2017 |
| 18 | Madhupriya.S, Subhasini.M | Voluntary blood donation using enhanced GPS Searching | International Journal of Engineering development and Research | 2017 |
| 19 | Ashok.P | Dynamic Cryptographic algorithm to provide password authentication using cued click points | International Journal Informatics and Communication Technology | 2017 |
| 20 | Ilamurugan.G | A Review on Cross Flow vibration | International Journal of Applied Engineering research | 2017 |
| 21 | Bharathi.M, Rayavel.P | Anonymous system: Automatics Secret Attack in utility and Delectability application | International Journal of Engineering development and Research | 2017 |
| 22 | Sreedevi.B, Priya.M | Analysis of performance metrics with mesenchymal stem cell classification and optimization algorithms | International Journal of Pure and Applied Mathematics | 2017 |
| 23 | Ragunthar.T, Ilamurugan.G | Counsel System effective Farming Using data Mining algorithm | International Journal of Pure and Applied Mathematics | 2017 |
| 24 | Mr.G. Ilamurugan | Integrated Detection Of Open Drainage And Overflow, Current Leakage And garbage Monitoring In IOT Environment | International Journal Of Creative Research Thoughts (Ijcrt), Issn:2320-2882 | 2017 |
| 25 | Pachhaiammal@Priya M | Smart Navigation To Assist Blind People For Object Detection | International Journal Of Creative Research Thoughts (Ijcrt), Issn:2320-2882 | 2017 |
| 26 | Roopa.D | Finding Gps Based Bid With Augmented Reality | International Journal Of Creative Research Thoughts (Ijcrt), Issn:2320-2882 | 2017 |
| 27 | Mrs. K. Sathyabama | True Alarm Using Artificial Intelligence And Internet Of Things | International Journal Of Creative Research Thoughts (Ijcrt), Issn:2320-2882 | 2017 |
| 28 | Roopa.D , Dr.S.Bose | Gaining Vigorous Knowledge For Autism By Augmented Reality | International Journal Of Creative Research Thoughts (Ijcrt), Issn:2320-2882 | 2017 |
| 29 | S.Ananthi, M.Bharathi, S.Anand | Resolving Bias In Recommender Systems | International Journal Of Creative Research Thoughts (Ijcrt), Issn:2320-2882 | 2017 |
| 30 |  Ashok P | A Brief Study Of Malicious Virus: Ransom ware | International Journal Of Creative Research Thoughts (Ijcrt), Issn:2320-2882 | 2017 |
| 31 | M.Bharathi, S.Ananthi | Rural Basic Healthcare Automated System | International Journal Of Creative Research Thoughts (Ijcrt), Issn:2320-2882 | 2017 |
| 32 | Roopa.D | Gaining Vigorous Knowledge For Autism By Augmented Reality | International Journal Of Creative Research Thoughts (Ijcrt), Issn:2320-2882 | 2017 |
| 33 | T. Ragunthar, S. Selvakumar | Improved Duplication In Cloud Using HDFS Storage Providers | International Journal Of Creative Research Thoughts (Ijcrt), Issn:2320-2882 | 2017 |
| 34 | C.Vanaja Pachhaiammal@Priya M | Automatic Toll Payment With Vacates Detection Using Li-Fi | International Journal Of Creative Research Thoughts (Ijcrt), Issn:2320-2882 | 2017 |
| 35 | Ashok.P | Dynamic Cued Click Point Algorithm To Provide Cryptographic Password Authentication | International Journal Of Pure And Applied Mathematics | 2017 |
| 36 | Rajalakshmi.D | a survey of id with higher malicious misbehavior detection in MANET | international journal of civil engineering and technology | 2017 |
| S.No | Name of the Author | Title of the Paper | Name of the Journal | Year |
| --- | --- | --- | --- | --- |
| 1 | DR.SAMEEULLAH.A.M | ADAPTIVE ROUTE SYNCHRONIZATION AND PROVIDING QOS OVER WSN | ASIAN JOURNAL OF RESEARCH IN SOCIAL SCIENCE AND HUMANITIES | 2016-2017 |
| 2 | SREEDEVI.B | IMPROVING MESENCHYMAL STEM CELL CLASSIFICATION USING MACHINE LEARNING TECHNIQUES | JOURNAL OF MEDICAL IMAGING AND HEALTH INFORMATICS | 2016-2017 |
| 3 | ROOPA.D | GESTICULATION CONTROLLED ROBOTS WITH AUGMENTED REALITY BASED ACUITY | INTERNATIONAL JOURNAL OF SCIENTIFIC DEVELOPMENT AND RESEARCH | 2016-2017 |
| 4 | ANNADURAI, ASHOK.P | A SURVEY ON CRYPT-ALGORITHM IN VOTING SYSTEM | INDIAN JOURNAL OF SCIENCE AND TECHNOLOGY | 2016-2017 |
Name of the Journal
Author
Title
Volume No
Issue No
Page No
Year of Publication
ISSN /
ISBN No.
Scopus
G.Ilamurugan
Robo Semiotic K-8 Educators
10
75
31-35
2015
ISSN
0973-
4562
Scopus
B.Sreedevi
Analysing Stem Cells Using Transformed Stem Cell Algorithm
10
75
96-100
2015
ISSN
0973-
4562
Examine and Extraction of Optimized Stem cells Using Image Processing
9
10
5-Jan
2015
ISSN
1991
-8178
Scopus
P.Kavitha
Methods To Identify The Flaws In The Unsupervised Clustering Methods And Their Evaluation By Analytical Study
10
75
124-129
2015
ISSN
0973
-4562
Scopus
K.Sathyabama
Earlier Growth Detection Of Brain Tumour Volume Through Mri Slice Orientations
10
75
200-202
2015
ISSN
0973
4562
Interaction with Deaf and Dumb Person using Android
9
10
9-Jun
2015
ISSN
1991
-8178
Scopus
D.Rajalakshmi
Innovations of Routing And Secure Dispatching of Packets In Manet
10
75
245-249
2015
ISSN
0973
-4562
Scopus
T.Ragunthar
Fortelling The Patients Survival from Bone Marrow transplant dataset
10
75
250-253
2015
ISSN
0973
-4562
Scopus
Shri Vindhya
Group Formation using Zone of Proximal Development Theory In Collaborative Learning Environment
10
75
254-257
2015
ISSN
0973
-4562
Identifying Personality Traits among Peers in Collaborative learning Environment
9
6
97-101
2015
ISSN
1995
-0772
Scopus
Pachhaiammal
Priya
Analysis Methods And Mining Of Brain Functional Connectivity For Detection Of Brain Disorders
10
75
258-262
2015
ISSN
0973
-4562
Exploring the interactions and connectivity among the Brain regions for identification of brain disorders
10
13
-
2015
ISSN
1819
-6608
Data Hiding in Multiple Frames
9
10
14-Oct
2015
ISSN
1991
-8178
Scopus
Premalatha R
Automated Concept Extraction tamil Documents
10
75
304-309
2015
ISSN
0973
-4562
A Classical Tamil Categorization using Knowledge Based Vector Space Model
10
72
232-237
2015
ISSN
0973
-4562
Scopus
S.Anand Kumar
Green Computing Based Optimized Resource Utilization In A cloud Computing Environment
10
75
322-326
2015
ISSN
0973
-4562
Scopus
Dr.A.M.
Sameeullah
Status Based Segment Oriented Caching In P2P Video Streaming
9
13
22-32
2015
ISSN
1995
-0772
Scopus
G.Vinithra
3D Face recognition Integrated With Hand Gestures For HCI
9
10
15-17
2015
ISSN
1991
-8178
Name of the Journal
Author
Title
Volume No
Issue No
Page No
Year of Publication
ISSN /
ISBN No.
Google Scholar
Premalatha R (GS)
Text Processing in Information Retrieval System Using Vector Space Model
3835
3
6-Jan
2014
ISBN
978-1-
4799
Scopus
D.Rajalakshmi
Enhanced Scenario Based Experiments to Overcome Byzantine Attacks In Manet
64
3
2014
ISSN
1992-
8645
Scopus
D. Rajalakshmi
A Secure Intrusion Detection With Higher Malicious Behavior Detection Rate System For Manet
9
197-210
2014
ISSN
0973-
4562
| Name of the Journal | Author | Title | Volume No | Issue No | Page No | Year of Publication | ISSN / ISBN No. |
| --- | --- | --- | --- | --- | --- | --- | --- |
| Scopus | B.Sreedevi | Treatment of Hepato Cellular Carcinoma with Optimized Stem cell Algorithm | 3 | 10 | 32-37 | 2013 | ISSN 2277-128X |
| S. NO. | AUTHOR | TITLE | NAME OF THE CONFERENCE | NATIONAL/ INTERNATIONAL |
| --- | --- | --- | --- | --- |
| 1.        | PACHHAIAMMAL@PRIYA M | PREDICTING THE CUSTOMER BEHAVIOR THROUGH WEB PAGE AND CONTENT MINING TECHNIQUES | 2018 INTERNATIONAL CONFERENCE ON COMMUNICATION, COMPUTING AND INTERNET OF THINGS (IC3IOT 2018) | INTERNATIONAL |
| 2.        | DR. B.SREEDEVI | ANALYSIS OF PERFORMANCE METRICS WITH MESENCHYMAL STEM CELL CLASSIFICATION AND OPTIMIZATION ALGORITHMS | 2018 INTERNATIONAL CONFERENCE ON COMMUNICATION, COMPUTING AND INTERNET OF THINGS (IC3IOT 2018) | INTERNATIONAL |
| 3.        | P. KAVITHA | MAPPING ARTIFICIAL INTELLIGENCE AND EDUCATION | 2018 INTERNATIONAL CONFERENCE ON COMMUNICATION, COMPUTING AND INTERNET OF THINGS (IC3IOT 2018) | INTERNATIONAL |
| 4.        | DR. B.SREEDEVI | VLC TRANSCEIVERS FOR SMART MUSEUMS | NATIONAL CONFERENCE ON INFORMATION AND COMMUNICATION ENGINEERING ( NICE'19) MARCH 21ST 2019 | NATIONAL |
| 5.        | MR. G ILAMURUGAN | TRANSLATION OF SPEECH INTO SIGN LANGUAGE ANIMATION | NATIONAL CONFERENCE ON INFORMATION AND COMMUNICATION ENGINEERING ( NICE'19) MARCH 21ST 2019 | NATIONAL |
| 6.        | MR.G ILAMURUGAN | E-HEALTHCARE SYSTEM WITH PRIVACY PRESERVING, CDA AND MACHINE LEARNING TECHNIQUES | NATIONAL CONFERENCE ON INFORMATION AND COMMUNICATION ENGINEERING ( NICE'19) MARCH 21ST 2019 | NATIONAL |
| 7.        | DR. K.C.SURESH | EDUCATIONAL ASSISTANCE APPLICATION FOR SPECIAL CHILDREN USING DEEP LEARNING | NATIONAL CONFERENCE ON INFORMATION AND COMMUNICATION ENGINEERING ( NICE'19) MARCH 21ST 2019 | NATIONAL |
| 8.        | MRS. MADHU PRIYA.S | PREDICTION AND CLASSIFICATION OF LIVER DISEASE USING MACHINE LEARNING ALGORITHM | NATIONAL CONFERENCE ON INFORMATION AND COMMUNICATION ENGINEERING ( NICE'19) MARCH 21ST 2019 | NATIONAL |
| 9.        | MRS. SUGANTHI P | SMART REDRESSAL SYSTEM FOR POLLUTION CONTROL | NATIONAL CONFERENCE ON INFORMATION AND COMMUNICATION ENGINEERING ( NICE'19) MARCH 21ST 2019 | NATIONAL |
| 10.    | MRS. ANANTHI.S | TOWARDS PRIVACY PRESERVING AND SHARING OF PERSONAL HEALTH RECORDS | NATIONAL CONFERENCE ON INFORMATION AND COMMUNICATION ENGINEERING ( NICE'19) MARCH 21ST 2019 | NATIONAL |
| 11.    | MRS.PACHHAIAMMAL@PRIYA M | PROACTVE DISASTER DETECTION | NATIONAL CONFERENCE ON INFORMATION AND COMMUNICATION ENGINEERING ( NICE'19) MARCH 21ST 2019 | NATIONAL |
| 12.    | MRS. VANAJA.C | SECURE E-RATION MANAGEMENT SYSTEM | NATIONAL CONFERENCE ON INFORMATION AND COMMUNICATION ENGINEERING ( NICE'19) MARCH 21ST 2019 | NATIONAL |
| 13.    | MRS. G VINITHRA | DROUGHT PREDICTION OF A LOCALITY | NATIONAL CONFERENCE ON INFORMATION AND COMMUNICATION ENGINEERING ( NICE'19) MARCH 21ST 2019 | NATIONAL |
| 14.    | MRS. D ROOPA | AUGMENTED REALITY IN LEAF DISEASE DETECTION USING OPENCV IN REACT NATIVE | NATIONAL CONFERENCE ON INFORMATION AND COMMUNICATION ENGINEERING ( NICE'19) MARCH 21ST 2019 | NATIONAL |
| 15.    | MRS. K.SATHYABAMA | ANALYSIS OF SOIL FERTILITY AND ESTIMATION OF CROP PRICE | NATIONAL CONFERENCE ON INFORMATION AND COMMUNICATION ENGINEERING ( NICE'19) MARCH 21ST 2019 | NATIONAL |
| 16.    | MR. P.RAYAVEL | DIRECT MARKETING SYSTEM'S | NATIONAL CONFERENCE ON INFORMATION AND COMMUNICATION ENGINEERING ( NICE'19) MARCH 21ST 2019 | NATIONAL |
| 17.    | MR.T.RAGUNTHAR | TRAFFIC CONTROL SYSTEM USING LIFI TECHNOLOGY | NATIONAL CONFERENCE ON INFORMATION AND COMMUNICATION ENGINEERING ( NICE'19) MARCH 21ST 2019 | NATIONAL |
| 18.    | MR.T.RAGUNTHAR | PREDICTIVE ANALYSIS OF GENE EXPRESSION DATA USING MACHINE LEARNING APPROACHES | NATIONAL CONFERENCE ON INFORMATION AND COMMUNICATION ENGINEERING ( NICE'19) MARCH 21ST 2019 | NATIONAL |
| 19.    | MR.J.JAYACHANDRAN | FEEDBACK ANALYSER | NATIONAL CONFERENCE ON INFORMATION AND COMMUNICATION ENGINEERING ( NICE'19) MARCH 21ST 2019 | NATIONAL |
| 20.    | MRS.C.VANAJA | REMOTE MONITORING AND VIRTUAL VISIT TO ICU | NATIONAL CONFERENCE ON INFORMATION AND COMMUNICATION ENGINEERING ( NICE'19) MARCH 21ST 2019 | NATIONAL |
| 21.    | MRS.G.VINITHRA | HOMOGRAPH ATTACK WARNING SYSTEM | NATIONAL CONFERENCE ON INFORMATION AND COMMUNICATION ENGINEERING ( NICE'19) MARCH 21ST 2019 | NATIONAL |
| 22.    | MR.P.ASHOK | PEST DETECTION AND IDENTIFICATION BY APPLYING COLOR HISTOGRAM AND CONTOUR DETECTION BY SVM MODEL | NATIONAL CONFERENCE ON INFORMATION AND COMMUNICATION ENGINEERING ( NICE'19) MARCH 21ST 2019 | NATIONAL |
| 23.    | MRS.S.MADHUPRIYA | REAL TIME FACE DETECTION AND PERSON TRACKING USING DEEP LEARANING | NATIONAL CONFERENCE ON INFORMATION AND COMMUNICATION ENGINEERING ( NICE'19) MARCH 21ST 2019 | NATIONAL |
| 24.    | MRS.D.RAJALAKSHMI | SMART LPG SYSTEM | NATIONAL CONFERENCE ON INFORMATION AND COMMUNICATION ENGINEERING ( NICE'19) MARCH 21ST 2019 | NATIONAL |
| 25.    | MRS. M. BHARATHI | PSYCHOLOGICAL TREATMENT USING VIRTUAL REALITY | NATIONAL CONFERENCE ON INFORMATION AND COMMUNICATION ENGINEERING ( NICE'19) MARCH 21ST 2019 | NATIONAL |
| 26.    | MR.P.ASHOK | ANALYSING FORMAL SEMATICS FROM HAND GESTURES TO TEXT USING CONTOUR TRACING TECHNIQUE | NATIONAL CONFERENCE ON INFORMATION AND COMMUNICATION ENGINEERING ( NICE'19) MARCH 21ST 2019 | NATIONAL |
| 27.    | MR.P.RAYAVEL | PREDICTION OF HEART DISEASE USING WEB CAMERA | NATIONAL CONFERENCE ON INFORMATION AND COMMUNICATION ENGINEERING ( NICE'19) MARCH 21ST 2019 | NATIONAL |
| 28.    | MR. P.ANNADURAI | SMART GUIDANCE FOR VISUALLY IMPAIRED PEOPLE USING DEEP LEARNING | NATIONAL CONFERENCE ON INFORMATION AND COMMUNICATION ENGINEERING ( NICE'19) MARCH 21ST 2019 | NATIONAL |
| 29.    | MRS.D.ROOPA | VOICE BASED EMAIL SERVICE FOR VISUALLY CHALLENGED PEOPLE | NATIONAL CONFERENCE ON INFORMATION AND COMMUNICATION ENGINEERING ( NICE'19) MARCH 21ST 2019 | NATIONAL |
| 30.    | MR. ANNADURAI.P | ADAPTIVE INTELLIGENT TUTOR | NATIONAL CONFERENCE ON INFORMATION AND COMMUNICATION ENGINEERING ( NICE'19) MARCH 21ST 2019 | NATIONAL |
| 31.    | DR.K.C.SURESH | MERCHANT CATEGORY RECOMMENDATION | NATIONAL CONFERENCE ON INFORMATION AND COMMUNICATION ENGINEERING ( NICE'19) MARCH 21ST 2019 | NATIONAL |
| 32.    | MRS.D.RAJALAKSHMI | IR IMAGE DISRUPTER WITH EMBEDDED CODE TRACKER | NATIONAL CONFERENCE ON INFORMATION AND COMMUNICATION ENGINEERING ( NICE'19) MARCH 21ST 2019 | NATIONAL |
| S. No. | Author | Title | Name of the Conference | National/ International |
| --- | --- | --- | --- | --- |
| 1.        | P.ANNADURAI | PARALLEL DATA ARCHIVAL SYSTEM IN HADOOP CLUSTERS USING ERASURE CODE | NATIONAL CONFERENCE ON INFORMATION AND COMMUNICATION ENGINEERING [NICE`18] 18TH APRIL 2018 | NATIONAL |
| 2.        | D.ROOPA | SMART BOOK READER: TEXT EXTRACTION FROM IMAGE USING TESSERACT OCR AND COMPARISON WITH GOOGLE CLOUD VISON API | NATIONAL CONFERENCE ON INFORMATION AND COMMUNICATION ENGINEERING [NICE`18] 18TH APRIL 2018 | NATIONAL |
| 3.        | G.VINITHRA | DIGITAL ASSISTANT FOR ALZHEIMER PATIENTS | NATIONAL CONFERENCE ON INFORMATION AND COMMUNICATION ENGINEERING [NICE`18] 18TH APRIL 2018 | NATIONAL |
| 4.        | P.KAVITHA | AUTONOMOUS CAR USING CONVOLUTIONAL NEURAL NETWORK | NATIONAL CONFERENCE ON INFORMATION AND COMMUNICATION ENGINEERING [NICE`18] 18TH APRIL 2018 | NATIONAL |
| 5.        | S.ANANTHI | PROACTIVE ACCIDENT AVOIDANCE SYSTEM USING DRIVER AND VEHICLE BEHAVIORAL ANALYSIS PATTERN | NATIONAL CONFERENCE ON INFORMATION AND COMMUNICATION ENGINEERING [NICE`18] 18TH APRIL 2018 | NATIONAL |
| 6.        | DR.B.SREEDEVI, | MIND CONTROLLED GAMING FOR THE DIFFERENTLY ABLED | NATIONAL CONFERENCE ON INFORMATION AND COMMUNICATION ENGINEERING [NICE`18] 18TH APRIL 2018 | NATIONAL |
| 7.        | PACHHAIAMMAL, \@PRIYA M | DATA MINING APPROACH FOR ASSESSMENT OF FLOOD  DAMAGE | NATIONAL CONFERENCE ON INFORMATION AND COMMUNICATION ENGINEERING [NICE`18] 18TH APRIL 2018 | NATIONAL |
| 8.        | SUGANTHI.P | FINGER PRINT AUTHENTICATION FOR INTERNET BANKING ALONG WITH ONLINE SHOPPING | NATIONAL CONFERENCE ON INFORMATION AND COMMUNICATION ENGINEERING [NICE`18] 18TH APRIL 2018 | NATIONAL |
| 9.        | K.SATHYABAMA , | COMBINED DATA ABSTRACTION ON SOIL FERTILITY AND CLIMATIC CONDITIONS | NATIONAL CONFERENCE ON INFORMATION AND COMMUNICATION ENGINEERING [NICE`18] 18TH APRIL 2018 | NATIONAL |
| 10.    | K.SATHYABAMA, | FARMLOG-A MOBILE APPLICATION FOR | NATIONAL CONFERENCE ON INFORMATION AND COMMUNICATION ENGINEERING [NICE`18] 18TH APRIL 2018 | NATIONAL |
| 11.    | G.VINITHRA, | E-PAYMENT FOR TOLL-GATE PROCESSING USING QR TECHNOLOGY | NATIONAL CONFERENCE ON INFORMATION AND COMMUNICATION ENGINEERING [NICE`18] 18TH APRIL 2018 | NATIONAL |
| 12.    | SUBASHINI.M | REAL TIME AV ASSISTANCE FOR ANOPSIA | NATIONAL CONFERENCE ON INFORMATION AND COMMUNICATION ENGINEERING [NICE`18] 18TH APRIL 2018 | NATIONAL |
| 13.    | S.MATHUPRIYA | SEWAGE POISINIOUS GAS MONITORING IOT DEVICE AND LOCATION IDENTIFICATION FOR SEWAGE WORKER | NATIONAL CONFERENCE ON INFORMATION AND COMMUNICATION ENGINEERING [NICE`18] 18TH APRIL 2018 | NATIONAL |
| 14.    | T.RAGUNTHAR | PREDICTIVE ANALYSIS BASED ON QUANT CLOUD FOR FINANCE TRADING | NATIONAL CONFERENCE ON INFORMATION AND COMMUNICATION ENGINEERING [NICE`18] 18TH APRIL 2018 | NATIONAL |
| 15.    | RAYAVEL.P | EMERGENCY AUTOMATIC SIGNALLING SYSTEM USING TIME SCHEDULING | NATIONAL CONFERENCE ON INFORMATION AND COMMUNICATION ENGINEERING [NICE`18] 18TH APRIL 2018 | NATIONAL |
| 16.    | RAYAVEL.P | RETINAL EXUDATES IMAGE SEGMENTATION AND SEVERITY PREDICTION | NATIONAL CONFERENCE ON INFORMATION AND COMMUNICATION ENGINEERING [NICE`18] 18TH APRIL 2018 | NATIONAL |
| 17.    | P.KAVITHA | AUTOMATIC LOGIN REGISTER USING FACE RECOGNITION | NATIONAL CONFERENCE ON INFORMATION AND COMMUNICATION ENGINEERING [NICE`18] 18TH APRIL 2018 | NATIONAL |
| 18.    | M.BHARATHI, | REPORT GENERATION FOR PSYCHOLOGICAL ANALYSIS BY EMOTION DETECTION FROM SPEECH | NATIONAL CONFERENCE ON INFORMATION AND COMMUNICATION ENGINEERING [NICE`18] 18TH APRIL 2018 | NATIONAL |
| 19.    | ANANTHI.S | STUDENT SMART WALLET USING RFID | NATIONAL CONFERENCE ON INFORMATION AND COMMUNICATION ENGINEERING [NICE`18] 18TH APRIL 2018 | NATIONAL |
| 20.    | M.BHARATHI. | MULTIUSER WIRELESS DIGITAL NOTICE BOARD | NATIONAL CONFERENCE ON INFORMATION AND COMMUNICATION ENGINEERING [NICE`18] 18TH APRIL 2018 | NATIONAL |
| 21.    | G. ILAMURUGAN, | PREMATURE PREDICTION OF ALZHEIMER'S DISEASE USING DECISION TREE CLASSIFIER | NATIONAL CONFERENCE ON INFORMATION AND COMMUNICATION ENGINEERING [NICE`18] 18TH APRIL 2018 | NATIONAL |
| 22.    | J.JAYACHANDRAN, | VICTIM IDENTIFICATION USING FINGERPRINT SENSOR | NATIONAL CONFERENCE ON INFORMATION AND COMMUNICATION ENGINEERING [NICE`18] 18TH APRIL 2018 | NATIONAL |
| 23.    | C. VANAJA | AUTOMATION IN DISCOVERY OF GENETIC DISEASES | NATIONAL CONFERENCE ON INFORMATION AND COMMUNICATION ENGINEERING [NICE`18] 18TH APRIL 2018 | NATIONAL |
| 24.    | .JAYACHANDRAN | QR CODE BASED SMART SHOPPING | NATIONAL CONFERENCE ON INFORMATION AND COMMUNICATION ENGINEERING [NICE`18] 18TH APRIL 2018 | NATIONAL |
| 25.    | S.MATHUPRIYA, | SMART EVENT MANAGEMENT SYSTEM | NATIONAL CONFERENCE ON INFORMATION AND COMMUNICATION ENGINEERING [NICE`18] 18TH APRIL 2018 | NATIONAL |
| 26.    | K.C.SURESH | A COMPLETE TOUR PLANNER FOR TRAVEL ENTHUSIAST | NATIONAL CONFERENCE ON INFORMATION AND COMMUNICATION ENGINEERING [NICE`18] 18TH APRIL 2018 | NATIONAL |
| 27.    | M.SUBASHINI | SAFE BALLOTING USING BIOMETRY | NATIONAL CONFERENCE ON INFORMATION AND COMMUNICATION ENGINEERING [NICE`18] 18TH APRIL 2018 | NATIONAL |
| 28.    | P. ASHOK | INTERACTIVE APPLICATION FOR CREATING AWARENESS AMONG PUBLIC IN A LOCALITY | NATIONAL CONFERENCE ON INFORMATION AND COMMUNICATION ENGINEERING [NICE`18] 18TH APRIL 2018 | NATIONAL |
| 29.    | P. SUGANTHI | MEMORY MANAGEMENT OF MULTIPLE VIRTUAL MACHINE AND WORKLOAD SCHEDULING | NATIONAL CONFERENCE ON INFORMATION AND COMMUNICATION ENGINEERING [NICE`18] 18TH APRIL 2018 | NATIONAL |
| 30.    | T. RAGUNTHAR | PERSONALITY ASSESSMENT TO AID TEACHERS IN MANAGEMENT AND COUNSELLING OF STUDENTS | NATIONAL CONFERENCE ON INFORMATION AND COMMUNICATION ENGINEERING [NICE`18] 18TH APRIL 2018 | NATIONAL |
| 31.    | G.ILAMURUGAN | REMOTE PORTABLE WI-FI PENETRATION SUITE USING FULLY OPENSOURCE COMPONENT | NATIONAL CONFERENCE ON INFORMATION AND COMMUNICATION ENGINEERING [NICE`18] 18TH APRIL 2018 | NATIONAL |
Sl. No.
Author
Title
Name of
the Conference
Name of the Institution
Date
National/ International
1
Shri
Vindhya
Identifying
Personality
Traits among Peers in Collaborative learning Environment
NCIC 2015
Pondicherry
Engineering
College
30.1.2015
National
Group Formation
using Zone of
Proximal Development Theory In Collaborative Learning Environment
ICCIT 15
Sri Sairam
Institute of
Technology
13-14
August 2015
Inter
national
2
G.
Ilamurugan
Robo Semiotic K-8
Educators
ICCIT 15
Sri Sairam
Institute of
Technology
13-14,
August 2015
Inter
national
3
B.Sreedevi
Analysing Stem
Cells Using
Transformed Stem Cell Algorithm
ICCIT 15
Sri Sairam
Institute of
Technology
13-14,
August 2015
Inter
national
Examine and
Extraction of
Optimized Stem cells Using Image Processing
ICCIT 15
Sri Sairam
Institute of
Technology
13-14
August 2015
Inter
national
4
P.Kavitha
Methods To
Identify The
Flaws In The Unsupervised Clustering Methods And Their Evaluation By Analytical Study
ICCIT'15
Sri Sairam
Institute of
Technology
13-14,
August 2015
Inter
national
5
K.
Sathyabama
Earlier Growth
Detection Of
Brain Tumour
Volume Through
Mri Slice
Orientations
ICCIT'15
Sri Sairam
Institute of
Technology
13-14,
August 2015
Inte
rnational
Interaction with
Deaf and Dumb
Person using Android
ICCIT'15
Sri Sairam
Institute of
Technology
13-14
August 2015
Inter
national
Interaction with
Deaf and Dumb
Person using
Android
NC-REACT'15
RRase College
of
Engineering
27March,
2015
National
6
D.Rajalakshmi
Innovations of
Routing And
Secure Dispatching of Packets In Manet
ICCIT 15
Sri Sairam
Institute of
Technology
13-14
August 2015
Inter
national
7
T.Ragunthar
Fortelling The
Patients Survival
from Bone Marrow transplant dataset
ICCIT 15
Sri Sairam
Institute of
Technology
13-14
August 2015
Inter
national
8
Pachhaiammal
Priya
Analysis
Methods And
Mining Of Brain
Functional
Connectivity For
Detection Of
Brain Disorders
ICCIT 15
Sri Sairam
Institute of
Technology
13-14
August 2015
Inter
national
Data Hiding in
Multiple Frames
ICCIT 15
Sri Sairam
Institute of
Technology
13-14
August 2015
Inter
national
9
Premalatha R
Automated
Concept Extraction
tamil Documents
ICCIT 15
Sri Sairam
Institute of
Technology
13-14
August 2015
Inter
national
A Classical Tamil
Categorization
using Knowledge
Based Vector
Space Model
NCSCA 15
Anna University ,
Tindivanam
29-30
April, 2015
National
10
S.Anand Kumar
Green
Computing
Based Optimized
Resource
Utilization In A
cloud Computing
Environment
ICCIT 15
Sri Sairam
Institute of
Technology
13-14
August 2015
Inter
national
11
Dr. A. M. Sameeullah
Status Based
Segment
Oriented
Caching In P2P
Video Streaming
ICCIT 15
Sri Sairam
Institute of
Technology
13-14
August 2015
Inte
rnational
Temporal
Parallelism
(Keynot address)
Pattern
Recognition
and Multimedia Signal Processing
Annamalai
University
9.1.2015
&
10.1.2015
Inter
national
12
G.Vinithra
3D Face
recognition
Integrated With
Hand Gestures
For HCI
ICCIT 15
Sri Sairam
Institute of
Technology
13-14
August 2015
Inter
national
13
S. Mathupriya
Integrated
Medical
Database Using
Android
Medicaid System
Emerging Trends
& Intelligent Technologies
Anand Institute
of Higher
Technology
3.10.2015
National
Sl. No.
Author
Title
Name of the Conference
Name of the Institution
Date
National / International
1
Premalatha R
Text Processing in Information Retrieval System Using Vector Space Model
ICICES 14
S. A Engineering college
27-28 Feb. 2014
International
2
Shri Vindhya
Analyzing Online Collaborative Learners in Tamil Using Moodle
Tamil Internet Conference
Pondicherry Engineering College
19-21 Sep 2014
International
Study of Interaction Patterns within INFITT group using Lognitudinal Probabilistics Social Network Analysis technique
Tamil Internet Conference
Pondicherry Engineering College
19-21 Sep 2014
International
Sl. No.
Author
Title
Name of the Conference
Name of the Institution
Date
National / International
1
Premalatha R
Knowledge
Based Information
Retrieval System
for Tamil Literary Documents
National
Conference on
Recent Trends
in Computer
Applications
Department
of Computer
Applications, SSN College
of Engineering
July 26,2013
National
2
Mrs.B. Sreedevi
Treatment of
Hepatocellular
Carcinoma with
Optimized SCA
international
conference
SRM University,
Faziabad,
Delhi.
Oct 4,2013
Inter-
national
3
Pachhaiammal Priya
Autonomous
brain Tumor
Detection using
Clustering
techniques
international
conference
SRM University,
Chennai.
Inter-
national
| Sl. No. | Author | Title | Name of the Conference | Name of the Institution | Date | National / International |
| --- | --- | --- | --- | --- | --- | --- |
| 1 | Premalatha R | A Novel Approach in Information Retrieval System for Tamil Education | ICAET 12 | EGS Pillay Engineering College | March 30th & 31st , 2012 | International |
| FACULTY NAME | NAME OF THE INSTITUTE | PERIOD | DURATION | TOPIC |
| --- | --- | --- | --- | --- |
| Bharathi.M | Sri Sairam Institute Of Technology | 5 to 6 June 2018 | 2 Days | Problem solving and python Programming |
| Vinithra.G | Sri Sairam Institute Of Technology | 5 to 6 June 2018 | 2 Days | Problem solving and python Programming |
| Jayachandran.J | Sri Sairam Institute Of Technology | 5 to 6 June 2018 | 2 Days | Problem solving and python Programming |
| Ananthi.S | Sri Sairam Institute Of Technology | 5 to 6 June 2018 | 2 Days | Problem solving and python Programming |
| Suganthi.P | Sri Sairam Institute Of Technology | 5 to 6 June 2018 | 2 Days | Problem solving and python Programming |
| Ashok.P | Sri Sairam Engineering College | 11th to 18th June 2018 | 8 Days | Problem solving and python Programming |
FACULTY NAME
NAME OF THE INSTITUTE
PERIOD
DURATION
TOPIC
B.SREEDEVI
FDP -ICTACT -Sri Sai Ram Institute of Technology
19 TO 23 JUNE 2017
5 DAYS
Data Science and Big Data Analytics
Quality Management System and Audit Training
23-Apr-18
1 DAY
ISO 9001:2015
EMC Education Services
17-Mar-18
1 DAY
Data Science and Big Data Analytics
Faculty Development Program ICT
24 TO 25 JANUARY 2018
2 DAYS
Introduction to Internet Of Things
National Workshop-SA Engineering college
23 TO 24 JANUARY 2018
2 DAYS
Quantum Computation and Cryptography
Quality Management System and Audit Training
23-Apr-18
1 DAY
ISO 9001:2015
Faculty Development Program ICT
24 TO 25 JANUARY 2018
2 DAYS
Introduction to Internet Of Things
National Workshop
23 TO 24 JANUARY 2018
2 DAYS
Quantum Computation and Cryptography
EMC Education Services
17-Mar-18
1 DAY
Data Science and Big Data Analytics
National Workshop- SA Engineering college
23 TO 24 JANUARY 2018
2 DAYS
Quantum Computation and Cryptography
KAVITHA.P
FDP -ICTACT -Sri Sai Ram Institute of Technology
19 TO 23 JUNE 2017
5 DAYS
Data Science and Big Data Analytics
PREMALATHA.R
Faculty Development Program
12 TO 16 JUNE 2017
5 DAYS
Virtualisation using VSPHERE 6.0
PACHHAIMMAL@PRIYA.M
Quality Management System and Audit Training
23-Apr-18
1 DAY
ISO 9001:2015
Faculty Development Program ICT
24 TO 25 JANUARY 2018
2 Day
Introduction to Internet Of Things
National Workshop- SA Engineering college
23 TO 24 JANUARY 2018
2 DAYS
Quantum Computation and Cryptography
Quality Management System and Audit Training
23-Apr-18
1 DAY
ISO 9001:2015
Red hat
2-Mar-18
1 DAY
Tech workshop on open source technology
ASHOK.P
FDP -ICTACT -Sri Sai Ram Institute of Technology
19 TO 23 JUNE 2017
5 DAYS
Data Science and Big Data Analytics
SURESH.K.C
FDP -ICTACT -Sri Sai Ram Institute of Technology
19 TO 23 JUNE 2017
5 DAYS
Data Science and Big Data Analytics
Quality Management System and Audit Training
23-Apr-18
1 DAY
ISO 9001:2015
ILAMURUGAN.G
National Workshop- SA Engineering college
23 TO 24 JANUARY 2018
2 DAYS
Quantum Computation and Cryptography
Faculty Development Program -Sri Sai Ram institute of Technology
4 TO 11 DECEMBER 2017
8 DAYS
Compiler Design
ROOPA.D
Workshop
2-Dec-17
1 DAY
Research Documentation using Latex
Quality Management System and Audit Training
23-Apr-18
1 DAY
ISO 9001:2015
Faculty Development Program- Sri Sai Ram institute of Technology
4 TO 11 DECEMBER 2017
8 DAYS
Compiler Design
MADHUPRIYA.S
Workshop
2-Dec-17
1 DAY
Research Documentation using Latex
JAYACHANDRAN.J
Quality Management System and Audit Training
23-Apr-18
1 DAY
ISO 9001:2015
SUBASHINI.M
Quality Management System and Audit Training
23-Apr-18
1 DAY
ISO 9001:2015
SUGANTHI.P
Quality Management System and Audit Training
23-Apr-18
1 DAY
ISO 9001:2015
Red hat
2-Mar-18
1 DAY
Tech workshop on open source technology
FDP -ICTACT -Sri Sai Ram Institute of Technology
19 TO 23 JUNE 2017
5 DAYS
Data Science and Big Data Analytics
FDP -ICTACT -Sri Sai Ram Institute of Technology
19 TO 23 JUNE 2017
5 DAYS
Data Science and Big Data Analytics
ANNADURAI.P
Quality Management System and Audit Training
23-Apr-18
1 DAY
ISO 9001:2015
RAYAVEL.P
Quality Management System and Audit Training
23-Apr-18
1 DAY
ISO 9001:2015
Quality Management System and Audit Training
23-Apr-18
1 DAY
ISO 9001:2015
SATHYABAMA.K
National Workshop- SA Engineering college
23 TO 24 JANUARY 2018
2 DAYS
Quantum Computation and Cryptography
Quality Management System and Audit Training
23-Apr-18
1 DAY
ISO 9001:2015
ANANTHI.S
Faculty Development Program ICT
24 TO 25 JANUARY 2018
2 DAYS
Introduction to Internet Of Things
Quality Management System and Audit Training
23-Apr-18
1 DAY
ISO 9001:2015
BHARATHI.M
Red hat-Sri Sairam Engineering College
2-Mar-18
1 DAY
Tech workshop on open source technology
Quality Management System and Audit Training
23-Apr-18
1 DAY
ISO 9001:2015
VANAJA.C
Red hat-Sri Sairam Institute of Technology
2-Mar-18
1 DAY
Tech workshop on open source technology
National Workshop- SA Engineering college
23 TO 24 JANUARY 2018
2 DAYS
Quantum Computation and Cryptography
Faculty Development Program- Sri Sai Ram institute of Technology
4 TO 11 DECEMBER 2017
8 DAYS
Compiler Design
Quality Management System and Audit Training
23-Apr-18
1 DAY
ISO 9001:2015
RAGUNTHAR.T
Faculty Development Program ICT
24 TO 25 JANUARY 2018
2 DAYS
Introduction to Internet Of Things
Quality Management System and Audit Training
23-Apr-18
1 DAY
ISO 9001:2015
Red hat
2-Mar-18
1 DAY
Tech workshop on open source technology
VINITHRA.G
Faculty Development Program
18 TO 19 JANUARY 2018
2 DAYS
Introduction to Mobile App Development
RAJALAKSHMI.D
Quality Management System and Audit Training
23-Apr-18
1 DAY
ISO 9001:2015
FACULTY NAME
NAME OF THE INSTITUTE
PERIOD
DURATION
TOPIC
B.SREEDEVI
MHRD EXCELLENCE IN BIOMEDICAL APPLICATIONS -Anna University
11th November 2016
1 DAY
Stem cell and regenerative medicine
Faculty Development Program-ICT
18 TO 22 JULY 2016
4 DAYS
HADOOP
ORACLE CADEMY
29-Apr-16
1 DAY
Java Fundamentals and Programming
KAVITHA.P
FDP-ICT
18 JULY 2016-22 JULY 2016
4 DAYS
HADOOP
MHRD EXCELLENCE IN BIOMEDICAL APPLICATIONS -Anna University
11th November 2016
1 DAY
Stem cell and regenerative medicine
PACHHAIMMAL@PRIYA.M
National level workshop - St .Joseph Institute of technology
4 October 2016 -5 October 2016
2 DAYS
Data Center Virtualization
ILLAMURUGAN .P
FDP-TCS
28 DECEMBER 2016-06 January 2017
8 DAYS
Cloud and automation
SUBASHINI.M
Workshop -Mahalingam college of Engineering-Pollachi
30-Jul-16
1 DAY
Python Programming
SUGANTHI.P
ORACLE CADEMY
29-Apr-16
1 DAY
Java Fundamentals and Programming
National level workshop - St .Joseph Institute of technology
4 October 2016 -5 October 2016
2 DAYS
Data Center Virtualization
ANNADURAI.P
ORACLE CADEMY
29-Apr-16
1 DAY
Java Fundamentals and Programming
FDP-ICT
18 JULY 2016-22 JULY 2016
4 DAYS
HADOOP
RAYAVEL.P
FDP-ICT
18 JULY 2016-22 JULY 2016
4 DAYS
HADOOP
Workshop -Mahalingam college of Engineering-Pollachi
30-Jul-16
1 DAY
Python Programming
SATHYABAMA.K
FDP-ICT
18 JULY 2016-22 JULY 2016
4 DAYS
HADOOP
ANANTHI.S
National level workshop - St .Joseph Institute of technology
4 October 2016 -5 October 2016
2 DAYS
Data Center Virtualization
FDP-TCS
28 DECEMBER 2016-06 January 2017
8 DAYS
Cloud and automation
National level workshop - St .Joseph Institute of technology
4 October 2016 -5 October 2016
2 DAYS
Data Center Virtualization
BHARATHI.M
FDP-ICT
18 JULY 2016-22 JULY 2016
4 DAYS
HADOOP
MHRD EXCELLENCE IN BIOMEDICAL APPLICATIONS -Anna University
11th November 2016
1 DAY
Stem cell and regenerative medicine
RAGUNTHAR.T
National level workshop - St .Joseph Institute of technology
4 October 2016 -5 October 2016
2 DAYS
Data Center Virtualization
ORACLE ACADEMY
29-Apr-16
1 DAY
Java Fundamentals and Programming
VINITHRA.G
FDP-ICT
18 JULY 2016-22 JULY 2016
4 DAYS
HADOOP
RAJALAKSHMI.D
FDP-ICT
18 JULY 2016-22 JULY 2016
4 DAYS
HADOOP
ORACLE CADEMY
29-Apr-16
1 DAY
Java Fundamentals and Programming
National level workshop - St .Joseph Institute of technology
4 October 2016 -5 October 2016
2 DAYS
Data Center Virtualization
Anand Kumar .S
FDP-ICT
18 JULY 2016-22 JULY 2016
4 DAYS
HADOOP
JOYCE.A
National level workshop - St .Joseph Institute of technology
4 October 2016 -5 October 2016
2 DAYS
Data Center Virtualization
P.Ashok
National level workshop - St .Joseph Institute of technology
4 October 2016 -5 October 2016
2 DAYS
Data Center Virtualization
K.C.Suresh
National level workshop - St .Joseph Institute of technology
4 October 2016 -5 October 2016
2 DAYS
Data Center Virtualization
D.Roopa
National level workshop - St .Joseph Institute of technology
4 October 2016 -5 October 2016
2 DAYS
Data Center Virtualization
S.No
Faculty Name/ Designation
Workshop / conference / FDP/ Seminar
Title
Place
Date
1
M. Bharathi
FDP
Mobile Application Development
Sri Sairam Engineering
08.01.2016 & 09.01.2016
2
R. Premalatha
FDP
Mobile Application Development
Sri Sairam Engineering
08.01.2016 & 09.01.2016
3
B. Sreedevi
FDP
Recent Trends in Optimization Techniques & Applications
Pondicherry Engineering College
04.01.2016 To 08.01.2016
Workshop
Emerging Trends and Future Perspective in Image Processing and Computer vision
Sri Sairam Engineering College
22.09.2015 & 23.09.2015
4
M. Pachhaiammal @ Priya
FDP
Recent Trends in Optimization Techniques & Applications
Pondicherry Engineering College
04.01.2016 To 08.01.2016
5
D. Rajalakshmi
Workshop
Simulation & Emulation of Self Organized Networks
Kongu Engineering College
10.11.2015 To 12.11.2015
6
P. Rayavel
Workshop
Emerging Trends and Future Perspective in Image Processing and Computer vision
Sri Sairam Engineering College
22.09.2015 & 23.09.2015
7
M. Subashini
FDP
Knowledge Management
TCS, Siruseri
06.07.2015
8
G. Vinithra
FDP
Knowledge Management
TCS, Siruseri
06.07.2015
S.No
Faculty Name/ Designation
Workshop / conference / FDP/ Seminar
Title
Place
Date
1
R. Premalatha
FDP
Introduction to PHP & MySQL
Sri Sairam Institute of Technology
18.06.2015
&
19.06.2015
Workshop
How to write Research Papers for Refereed Journals
Sri Sairam Institute of Technology
24.01.2015
2
G. Vinithra
FDP
Introduction to PHP & MySQL
Sri Sairam Institute of Technology
18.06.2015
&
19.06.2015
3
A. Joyce
FDP
Introduction to PHP & MySQL
Sri Sairam Institute of Technology
18.06.2015
&
19.06.2015
FDP
Cloud Computing and Big data
Sri Sairam Engg College
08.12.2014
&
09.12.2014
FDP
Software Testing
TCS
14.09.2014
4
B. Sreedevi
FDP
Introduction to PHP & MySQL
Sri Sairam Institute of Technology
18.06.2015
&
19.06.2015
Workshop
How to write Research Papers for Refereed Journals
Sri Sairam Institute of Technology
24.01.2015
5
T. Ragunthar
FDP
Development, Maintenance, Support & testing-based projects.
L&T
13.06.2015
to
24.06.2015
FDP
A step to outcome based Accreditation
Sri Sairam Institute of Technology
04.04.2015
Workshop
How to write Research Papers for Refereed Journals
Sri Sairam Institute of Technology
24.01.2015
6
Ms Pachhaiammal @ Priya M
FDP
A step to outcome based Accreditation
Sri Sairam Institute of Technology
04.04.2015
Workshop
How to write Research Papers for Refereed Journals
Sri Sairam Institute of Technology
24.01.2015
FDP
Software Testing
Sri Sairam Engg. College
14.11.2014
FDP
Software Testing
TCS
14.09.2014
7
P.Annadurai
FDP
A step to outcome based Accreditation
Sri Sairam Institute of Technology
04.04.2015
8
G.Ilamurugan
FDP
A step to outcome based Accreditation
Sri Sairam Institute of Technology
04.04.2015
FDP
Cloud Computing and Big data
Sri Sairam Engg College
08.12.2014& 09.12.2014
9
P.Kavitha
FDP
A step to outcome based Accreditation
Sri Sairam Institute of Technology
04.04.2015
FDP
Software Testing
Sri Sairam Engg. College
14.11.2014
FDP
Software Testing
TCS
14.09.2014
10
P.Rayavel
FDP
A step to outcome based Accreditation
Sri Sairam Institute of Technology
04.04.2015
FDP
Cloud computing & Big Data
CSI
08.12.2014 & 09.12.2014
11
P.Suganthi
FDP
A step to outcome based Accreditation
Sri Sairam Institute of Technology
04.04.2015
Workshop
How to write Research Papers for Refereed Journals
Sri Sairam Institute of Technology
24.01.2015
12
K. Satyabama
Workshop
How to write Research Papers for Refereed Journals
Sri Sairam Institute of Technology
24.01.2015
FDP
Cloud computing & Big Data
Sri Sairam Engineering College
08.12.2014 & 09.12.2014
FDP
Software Testing
Sri Sairam Engg. College
14.11.2014
FDP
Software Testing
TCS
14.09.2014
13
Shri vindhya
Workshop
How to write Research Papers for Refereed Journals
Sri Sairam Institute of Technology
24.01.2015
FDP
Software Testing
TCS
14.09.2014
S.No
Faculty Name/ Designation
Workshop / conference / FDP/ Seminar
Title
Place
Date
1
Vinithra G
FDP
Cloud Computing
TCS
05.05.2014
FDP
IBM SEED
Sri Sairam Institute of Technology
02.09.2013
To
05.09.2013
2
A.S Poornimarani
FDP
IBM SEED
Sri Sairam Institute of Technology
02.09.2013
To
05.09.2013
3
T . Ragunthar
FDP
IBM SEED
Sri Sairam Institute of Technology
02.09.2013
To
05.09.2013
4
Premalatha R
FDP
IBM SEED
Sri Sairam Institute of Technology
02.09.2013
To
05.09.2013
5
B.Sreedevi
FDP
IBM SEED
Sri Sairam Institute of Technology
02.09.2013
To
05.09.2013
6
G. Ilamurugan
FDP
Cloud Computing
TCS
05.05.2014
FDP
BOSS Minimalistic Object Oriented Linux (MOOL)
IIT, Madras
26.06.2014
&
27.06.2014
7
Mathupriya S
FDP
Cloud Computing
TCS
05.05.2014
8
K.Sathyabama
FDP
Cloud Computing
TCS
05.05.2014
9
A.Joyce
FDP
Cloud Computing
TCS
05.05.2014
10
Kavitha.P
FDP
Cloud Computing
TCS
05.05.2014
11
Shrivindhya
FDP
Cloud Computing
TCS
05.05.2014
| S.No | Faculty Name/ Designation | Workshop / conference / FDP/ Seminar | Title | Place | Date |
| --- | --- | --- | --- | --- | --- |
| 1 | P.Annadurai | FDP | Computer Networks | Dhanalakshmi Engg College | 24.07.2012 |
| 2 | R.Premalatha | FDP | Computer Networks | Dhanalakshmi Engg College | 24.07.2012 |
| 3 | S.Ananthi | FDP | Computer Networks | Dhanalakshmi Engg College | 24.07.2012 |
| 4 | S.Mathupriya | FDP | Computer Networks | Dhanalakshmi Engg College | 24.07.2012 |
| 5 | K.Sathyabama | FDP | Computer Networks | Dhanalakshmi Engg College | 24.07.2012 |
| 6 | Premalatha | FDP | Computer Networks | Dhanalakshmi Engg College | 24.07.2012 |
| 7 | Shrivindhya | FDP | Computer Networks | Dhanalakshmi Engg College | 24.07.2012 |
S.No
Faculty Name/ Designation
Workshop / conference / FDP/ Seminar
Title
Place
Date
1
Mr. P.C.Senthil Mahesh
Workshop
Personal Effectiveness
Taramani
16.07.2011
2
Ms. B.Sreedevi
FDP
Open Source Lab
SMK FOMRA Engineering College
09.07.2011
Workshop
Web Services
Sri Sairam Engineering College.
3
Ms Pachhaiammal @ Priya M
Workshop
Wireless Sensor Networks
Aadiparasakhthi Engineering College
12.07.2011
&
13.07.2011
4
MS. A.S. Poornima Rani
Workshop
Web Services
Sri Sairam Engineering College.
5
Ms. S.Surya
Workshop
Peer-Peer Systems
Dhanalakshmi Engineering College
29.08.2011
6
Ms. G.Vinithra
Workshop
SOA
Cognizant Technology Solutions
02.08.2011
7
Ms. G.Nirmaladevi
Workshop
SOA
Cognizant Technology Solutions
02.08.2011
S.No
Faculty Name/ Designation
Workshop / conference / FDP/ Seminar
Title
Place
Date
1
Ms B.Sreedevi
Training
JA Bridge IT
Cognizant Technology Solutions
17.02.2011 & 18.02.2011
2
Mr. P.C.Senthil Mahesh
Workshop
workshop on "Team Building"
CPT Taramani
11.01.2011
Training
Training on "JA Bridge IT "
Cognizant Technology Solutions
17.02.2011 & 18.02.2011
3
Ms Jeyanthi.K
Workshop
workshop on "Team Building"
CPT Taramani
11.01.2011
100%Result -Faculty Name List
Sl.No
Staff Name
Subject
Year / Sem
Amount
1
Ms.D.Rajalakshmi
CS8491 - Computer Architecture
II / IV
Rs.6000
GE6075 - Professional Ethics in Engineering
IV / VIII
GE6075 - Professional Ethics in Engineering
IV / VIII
2
Ms.G.Vinithra
GE6757 - Total Quality Management
III / VI
Rs.2000
3
Mr.P.Annadurai
IT6601 - Mobile Computing
III / VI
Rs.2000
4
Ms.P.Suganthi
CS6601 - Distributed Systems
III / VI
Rs.4000
CS6502 - Object Oriented Analysis and Design
III / V
5
Ms.C.Vanaja
CS6504 - Computer Graphics
III / V
Rs.2000
6
Dr.Suresh K.C
IT6601 - Mobile Computing
III / VI
Rs.6000
CS6008 - Human Computer Interaction
IV / VIII
CS6008 - Human Computer Interaction
IV / VIII
7
Ms.S.Mathupriya
CS6801 - Multi – Core Architectures and Programming
IV / VIII
Rs.4000
CS6801 - Multi – Core Architectures and Programming
IV / VIII
8
Mr.G.Ilamurugan
CS6801 - Multi – Core Architectures and Programming
IV / VIII
Rs.2000
9
Mr.P.Ashok
CS6008 - Human Computer Interaction
IV / VIII
Rs.2000
10
Ms.S.Ananthi
CS8492 - Database Management Systems
II / IV
Rs.2000
Total
Rs.32,000
S.NO
STAFF NAME
SUBJECT
YEAR/SEM
AMOUNT
1
P.Suganthi
Human Computer Interaction
IV/VIII
8000
Operating System
II/IV
Programming Data Structures II
II/III
DS and OOPS
II/III
2
C.Vanaja
Design Analysis And Algorithm
II/IV
2000
3
D.Roopa
Computer Networks
II/IV
Artificial intelligence
III/VI
4000
Multi Core Architecture
IV/VIII
4
S.Mathupriya
Grid And Cloud Computing
IV/VII
4000
Human Computer Interaction
IV/VIII
Human Computer Interaction
IV/VIII
8000
5
P.Rayavel
Data Analytics
IV/VII
Problem solving in python programming
I/I
6
D.Rajalakshmi
Grid And Cloud Computing
IV/VII
3000
Professional Ethics (Half)
IV/VIII
7
G.Ilamurugan
Professional Ethics (Half)
IV/VIII
3000
Problem solving in python programming
I/I
Multi Core Architecture
IV/VIII
8
M.Subashini
Operating System
II/IV
4000
9
M.Bharathi
Programming Data Structures II
II/III
2000
Grid And Cloud Computing
IV/VII
10
G.Vinithra
Professional Ethics
IV/VIII
4000
11
P.Ashok
Cryptography And Network Security
IV/VII
2000
12
Dr.K.C.Suresh
Data Analytics
IV/VII
2000
13
T.Ragunthar
Cyber Forensics
IV/VII
2000
14
K.Sathyabama
Database Management System
II/III
2000
15
M.Pachhaiammal @ Priya
Compiler Design
III/VI
2000
16
S.Ananthi
Design Analysis And Algorithm
II/IV
2000
S.No.
Staff Name
Subject Name
Year / Sem
1
Pachaiammal@Priya.M
Computer Graphics
III/V
Data Warehousing and Mining
III/VI
2
Ilamurugan. G
Computer Architecture
II/III
Computer Programming
I/I
3
Kavitha.P
Multicore Architecture PDS II
IV/VII II/III
Computer Graphics
III/V
4
Rayavel.P
Theory of Computation
III/V
Human Computer Interaction
IV/VIII
Data Analytics
IV/VII
5
Annadurai.P
Mobile Computing
IV/VII
DBMS
II/IV
6
Dr.K.C.suresh
Human Computer Interaction
IV/VIII
7
D.Roopa
Theory of Computation
III/V
Computer programming
I/I
8
G. Vinithra
Software Project Management
IV/VIII
OOAD
III/V
9
Suganthi.P
Compiler designSoftware Project Management DBMS
III/V IV/VIII
II/IV

10
D. Raja Lakshmi
Multicore Architecture
IV/VIII
Grid And Cloud Computing
IV/VII
11
T. Ragunthar
Data Warehousing and Mining
III/VI
Advanced Database System
IV/VII
Computer programming
I/I
12
Madhupriya.S
EVS
II/III
13
K. Sathyabama
EVS
II/III
14
S.Ananthi
Compiler Design
III/V
S.No.
Staff Name
Subject Name
Year / Sem
1
Pachaiammal@Priya.M
Computer Graphics
III/V
Data Warehousing and Mining
III/VI
2
Ilamurugan. G
Computer Architecture
II/III
Computer Programming
I/I
3
Kavitha.P
Multicore Architecture PDS II
IV/VII II/III
Computer Graphics
III/V
4
Rayavel.P
Theory of Computation
III/V
Human Computer Interaction
IV/VIII
5
Annadurai.P
Mobile Computing
IV/VII
DBMS
II/IV
6
G. Vinithra
Software Project Management
IV/VIII
OOAD
III/V
7
Suganthi.P
Compiler design
III/V
Software Project Management
IV/VIII
8
D. Raja Lakshmi
Multicore Architecture
IV/VIII
9
T. Ragunthar
Data Warehousing and Mining
IV/VII
10
Madhupriya.S
EVS
II/III
11
K. Sathyabama
EVS
II/III
12
S.Ananthi
Compiler Design
III/V
Odd Sem:
S.No.
Staff Name
Subject Name
Year / Sem
1
Sreedevi.B
System Software
III/V
2
Premalatha.R
Computer Networks
III/V
3
Kavitha.P
Programming Paradigms Computer Programming
III/V

I/I
4
Pachhaiammal @Priya.M
Computer Programming
I/I
5
Annadurai.P
Computer Programming
I/I
6
D. Raja Lakshmi
Computer Architecture
III/V
7
T. Ragunthar
Computer Programming
I/I
8
A.Joyce
Software Engineering
III/V
9
Anand Kumar.S
Programming Paradigms
III/V
10
M.Subashini
Programming Paradigms
III/V
11
S.Ananthi
Database Management Systems
II/III
12
P.Rayavel
Data Structures And Oops (Ece)
II/III
13
Premalatha.R
Object Oriented Analysis & Design
III/VI
14
Pachhaiammal @Priya.M
Principles Of Compiler Design
III/VI
15
Suganthi.P
Advanced Computer Architecture Professional Ethics In Engineering
III/ VI
IV/VIII
15
Annadurai.P
Software Project Management
IV/VIII
17
Shri Vindhya
Artificial Intelligence
III/VI
18
Ilamurugan.G
Object Oriented Analysis & Design Software Engineering
III/VI
II/IV
19
M.Subashini
Computer Networks
II/IV
20
S.Ananthi
Design & Analysis Of Algorithms
II/IV
21
P.Rayavel
Object Oriented Analysis & Design
III/VI
| S.No. | Staff Name | Subject Name | Year / Sem |
| --- | --- | --- | --- |
| 1 | Mr.T. Ragunthar | CS2032- Data Warehousing And Mining | VII/IV/CSE |
| 2 | Ms V. Savitha | GE6151-Computer Programming | |
| 3 | Ms.R.Premalatha | EC2303-Computer Organization And Architecture | V/III/ECE |
| 4 | Ms.Pachhaiammal@Priya M | GE6151-Computer Programming | I-YEAR |
| 5 | Ms.Mathupriya | GE6151-Computer Programming | I-YEAR |
| 6 | Ms.G.Vinithra | GE2025-Professional Ethics In Engineering | VIII/IV/CSE |
| 7 | Ms.P.Kavitha | CS6202-Programming And Data Structures-I | II/I-YEAR |
| 8 | Ms.Mathupriya | CS6202-Programming And Data Structures-I | II/I-YEAR |
| S.No. | Staff Name | Subject Name | Year / Sem |
| --- | --- | --- | --- |
| 1 | Ms A.S. Poornimarani | CS2201-Data Structures | II/III |
| 2 | Ms V.Savitha | GE6151-Computer Programming | I/I |
| 3 | Ms M.Priya | GE6151-Computer Programming | I/I |
| 4 | Mr T.Ragunthar | CS2311-Oops With Java | III/V |
| 5 | Mr. S.Anandkumar | GE2151-Fundamentals Of Computing | I/I |
| 6 | Ms G.Nirmaladevi | GE2151-Fundamentals Of Computing | I/I |
| 7 | Ms K.Jeyanthi | GE2151-Fundamentals Of Computing | I/I |
| 8 | Ms G.Vinithra | GE2151-Fundamentals Of Computing | I/I |